Mingulay Holidays

Self catering holiday accommodation on the Isle of Barra, Outer Hebrides of Scotland
Website currently under development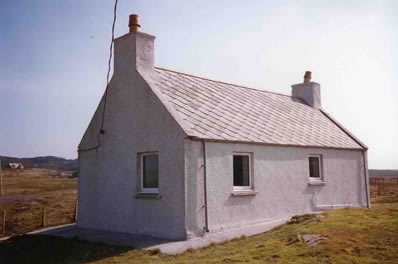 Mingulay cottage is situated in the hamlet of Bruernish in the north-east of Barra, about one mile off the main road which encircles the island. It is named after the now uninhabited island of Mingulay, once the home of Flora's ancestors. A visit to the deserted village on Mingulay is a moving experience.

The cottage is a recently renovated traditional croft-house with double glazing and electric heating. If you have an Ordnance Survey map, the national grid reference is (0)723 (7)020 (Landranger 31)

On the ground floor there is an open plan kitchen, dining and living area. The kitchen is well-equipped with a fridge, an electric cooker and a washing machine/dryer. The sitting area has a television and a king-sized bed in a recess.

A loft ladder, which can be folded away when not in use, leads to two upper bedrooms, each with two single beds. These rooms are not full height, as in all traditional croft-houses, but are ideal for children (or nimble adults!) Bedding is provided (duvets and pillows), but please bring your own linen and towels. If this is impossible we can supply them at a small extra charge. It's best to bring your own supplies of food with you for the first couple of days on the island. There are three food shops on he island, including a small supermarket, and travelling shops.
Location

You can travel to Barra on the car ferry, "The Lord of the Isles", which leaves from Oban. Information about ferries can be obtained from Caledonian MacBrayne. There are daily flights from Glasgow in a light passenger aircraft which lands on the beach. Flights take less than an hour. If you come to Barra via Uist, you can cross the causeway to Eriskay and take the ferry from there.

You can hire cars, taxis and bicycles on the island or travel in the Post Office bus, which delivers the mail and takes passengers.

The local tourist office will be delighted to provide up to date information about what is happening from day to day. Phone: +44 (0)1871 810336

Bookings

Tariff: Rates for the cottage range from £160 - £220 per week, according to the season.

Contact: Flora Macneil, Phone +44 (0) 7813 860 776
Email: flora@durorholidays.co.uk
Duror, Appin, Argyll, Scotland PA38 4DA

See also our sister property on the Scottish west coast at Duror, near Glencoe
website design by Hotscot, Suite 3, North Rd, Fort William PH33 6PP :: www.hotscot.net, email: design@hotscot.net